You can only see the real Florida from sea level. BACKWATER KAYAKS invites those who want enjoy a relaxing morning or afternoon viewing Florida's mangroves and rivers to view our page "contact us" for reasonable rates on flat water kayak trips.

Rick Redman, owner of Backwater Kayaks, is a member of the West Pasco Chapter of the National Audubon Society and is a
professional photographer with 30 years of photographic experience. We place utmost importance on protecting the environment that houses many endangered birds on Florida's west coast. Rick and his associate Dick Barker, also a member of the West Pasco Audubon Society and a wildlife photogrpher, assure you a unique and enjoyable experience.
Civilization is rapidly encroaching into our delicate shoreline. However, many of the birds and sea life can still be viewed in their natural habitat.

You can reserve a date now for your visit this winter.
Now scheduling for as early as September.

We are located in Port Richey, Florida (32 miles north of St. Pete).

Tel: (727) 641-3434 E-mail: Bwkayaks@aol.com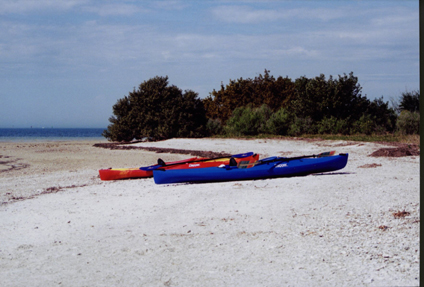 DURNEY KEY located off Port Richey, Florida. About a 30 minute paddle to quiet and solitude. Shallow water around 95% of the island makes it perfect for wadding.